Welcome to the HMS Tetcott Website
Dedicated to the memory of the Ship's Company and all those associated with the Type II Hunt-class destroyer HMS Tetcott
1941-2023 - The 82nd Anniversary of HMS Tetcott
Discover the story of HMS Tetcott and of the HMS Tetcott Project. Read about the ship's company and operations in the Mediterranean throughout World War Two. Meet the veterans and their familes, see the photos of the reunions held in 2006 and 2008 and much more!
2023 - The HMS Tetcott Website is STILL ACTIVE
Thank you to ALL who have shown support and interest in the site
particularly to the late Bob Stowell and the late Norman Docker - both veterans of HMS Tetcott
and also to Mike Dowd, son of the late APO Francis Dowd.
The Hunt Class destroyers epitomized the tradition of the Royal Navy's daring.
Manned mostly by reservists and 'hostilities only' men, and commanded on the whole by young officers, they played a truly magnificent role in the war at sea. HMS Tetcott was involved in almost every major operation in the Mediterranean from her arrival there in early 1942 until returning to the UK in 1945, but she was to come through virtually unscathed - a lucky ship.
November 2021 - A new name added to the roll
Firstly, an apology to Felix's daughter Susan (and particularly to her grand daughter - whose name I'm afraid I don't know) for it taking so long to add this to the web site. Unfortunately, so many other things take me away from working on the archive and things, sadly, get overlooked...
JX569028 A.B. FELIX 'PHIL' ELEY
Born on June 25th 1925 in West Hartlepool, Felix - better known as Phil - joined the Royal Navy in 1943 and served in HMS Tetcott from 20 February to 2 September 1945. Sadly, Felix 'Crossed the Bar' on 27 April 2018.
As always, it is a pleasure and honour to add his name to the Roll...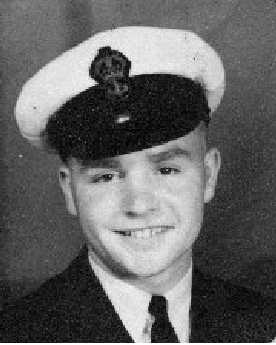 To the Memory of
Bill 'Crash' Hawksworth
1923- 2019
Chief Petty Officer, ERA3, HMS Tetcott
1943 - May 1945
Sunset and Evening Star
And one clear call for me!
And may there be no moaning of the bar,
When I put out to sea...
5 July 2017 - A New Name Added to the Roll!
George E. K. Sawdon (1913-1999)
Temp Sub Lieutenant, HMS Tetcott, May 1944 - July 1945
A few weeks ago the HMS Tetcott Archive was contacted by Ginny Field, the daughter of the late T/Sub Lt George Sawdon.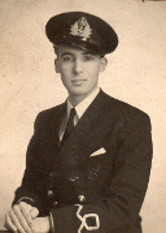 I was delighted to meet both Ginny and her husband Pete during their recent visit to Devon and Cornwall and to have the opportunity to be able to provide them with information regarding George's life aboard Tetcott, whilst Ginny was able to recount some wonderful memories of her father.
The afternoon was finished off with a very brief visit to the village of Tetcott to check on the HMS Tetcott Oak - which is, I am glad to report, thriving.
Ginny also very kindly presented the Archive with some wonderful items, all of which had been amongst her father's possessions, including a lovely wooden cigarette box (from Tetcott's ward room) - look out for some photos in the next few days!
It was both a pleasure and a privilege to meet you both, and it is, as always, an honour to be able to add another name to the roll.
8 March 2017- A New Name Added to the Roll!
Bernard McHugh
Leading Stoker, HMS Tetcott December 1941 - ?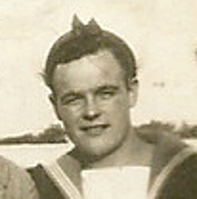 After initial contact from Matt Smith almost five years ago, I am delighted to be able, at last, to add the name of Stoker Bernard McHugh to the HMS Tetcott Roll.
Born in 1925 in Hartlepool, and crossing the bar on 5th May 1999, it appears Bernard, as a stoker, was amongst the first commissioning in December 1941.
Sincere and grateful thanks to Matt for providing the details and photograph of his grandfather and for allowing me the honour of adding Bernard's name to the Roll.
To the memory of
Norman Ludford Docker
6 December 1924 - 23 March 2016
Leading Wireman, HMS Tetcott, 1941-1944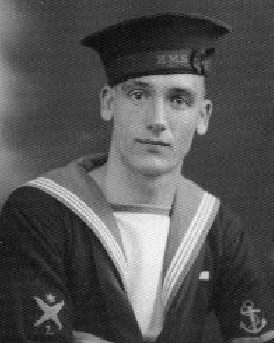 Sunset and evening star
And one clear call for me!
And may there be no moaning of the bar,
When I put out to sea,

But such a tide as moving seems asleep,
Too full for sound and foam,
When that which drew from out the boundless deep
Turns again home.

Twilight and evening bell,
And after that the dark!
And may there be no sadness of farewell,
When I embark;

For though from out our bourne of Time and Place
The flood may bear me far,
I hope to see my Pilot face to face
When I have crossed the bar.
15 November 2013 - A New Name Added to the Roll!
James William Peck
Gunner, HMS Tetcott June - September 1945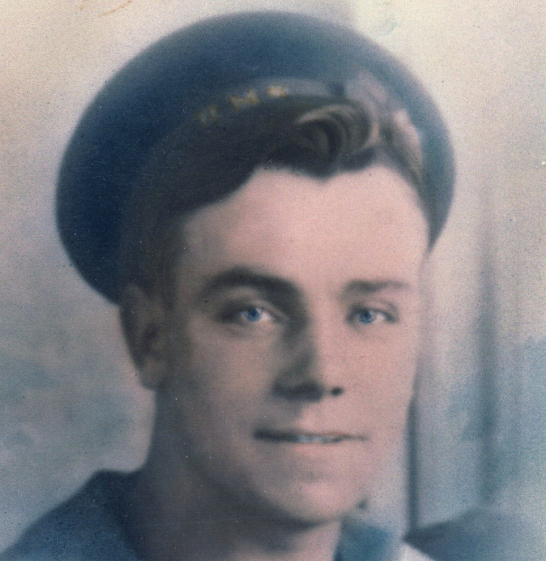 Thank you to Vicky Phillips for providing the archive with details of her father - James William Peck who served in Tetcott from June until September 1945.
Sincere and grateful thanks to Vicky for providing the details and photograph of her father and for allowing us the honour of adding James' name to the Roll.
13 November 2013 - New Memoirs added to Archive
Thankyou to Ron Sale for sending to the archive a copy of his father's (AB John, known as Jack, Sale) memories of his time in Tetcott between 1944 and 1945. A fascinating and valuable addition to the Archive - Thank you again Ron!
5 August 2013 - Normal Service Resumed!
Apologies to everyone for having not updated the website for a number of weeks. Due to a number of reasons, but mainly through illness.
Although the HMS Tetcott Archive and HMSTetcott.co.uk is an integral part of Holsworthy Museum, it is overseen by just one person - me!
Consequently, sometimes it becomes a little difficult to keep on top of things. Apologies again for letting the site slip - especially the '70 years ago' segment'.
Thank you to everyone for your continued support, ensuring that the HMS Tetcott Archive continues to grow, and a special thank you to Mike Dowd for his very special support during the last twelve months.
Shawn
LOOK OUT FOR A UNIQUE OPPORTUNITY TO STRENGTHEN YOUR OWN LINK WITH TETCOTT AND TETCOTT CHURCH - Details coming soon!
10 November 2012 Obtaining Naval Service Records
Since we launched this site in April we have been fortunate to have been contacted by the families of many of HMS Tetcott's crew.
Often the only information held by these familes is frustratingly brief and sketchy and we are often asked 'how can I find out what other ships he served on' and 'where can I obtain his Service Record?'
To try and help you we have created a new page which gives details of how to apply for Royal Navy Service Records - to access the page click HERE
27 October 2012 - A Meeting of Minds at Yeovilton!
Ever since first being contacted by Mike Dowd soon after the new HMS Tetcott site went live in April 2012, he has continually offered encouragement and shown an undying interest in the history of HMS Tetcott. Mike's father - Acting Petty Officer Francis Dowd - had served in Tetcott between May 1942 and February 1944 and Mike is passionate about discovering and recording the naval career of his father.
I had the pleasure today of meeting Mike, his wife Pat and daughter Aysha and John at the Fleet Air Arm Museum at Yeovilton.
Before spending a pleasant few hours touring the museum, I had the opportunity to look through some of the wealth of fascinating material Mike has managed to gather tracing the career of his father, whilst also giving Mike the chance to browse through my own veteran signed copy of the HMS Tetcott book!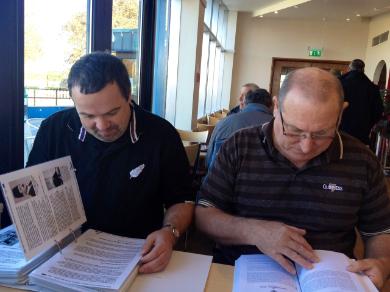 Mike (Right) and I 'Comparing notes'!
Thank you again for a lovely day - it was indeed a pleasure to meet you all and I look forward to the time when I can show you around the HMS Tetcott Archive..
22 October 2012 - A New Name Added to the Roll!
Charles Eustace Douglas (1903-1969)
Chief Petty Officer - Coxswain, HMS Tetcott
The official report on the sinking of U-372 written by Rycroft records that "the efficiency and skill of the following officers and ratings was responsible for the success of the attack" - amongst those names mentioned is that of Chief Petty Officer Charles Eustace Douglas "for his good steerage".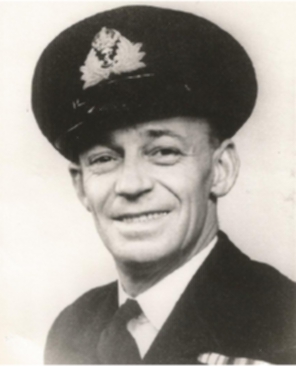 After a little detective work the HMS Tetcott Project has been pleased to be contacted by Charles' daughter Joy who very kindly provided the attached photograph of her father. Charles had joined the Royal Navy on 9 December 1921 at the age of eighteen, spending almost three years in HMS Colombo with the Eastern Fleet.
Sincere and grateul thanks to Joy for providing the details and photograph of her father and for allowing us the honour of adding Charles' name to the Roll.
24 July 2012 - A Pilgrimage to Tetcott
A wonderful day was spent on Tuesday (24 July) when we welcomed some very special guests to the Museum and later to the village of Tetcott.
Guest of Honour was, without doubt, Tetcott veteran and old friend AB Bob Stowell, accompanied by his son Graham, daughter-in-law Lorrie and two grand sons Thomas and Edward. Bob's visit coincided with the visit of Maria Smith (Grand daughter of Stkr Alfred Smith) and Jane Guilfoyle (Grand daughter of Tel. Jimmy Guilfoyle).
After meeting and introductions at Holsworthy Museum a lovely few hours were spent at Tetcott, first at the church - where we were welcomed by Sir William Molesworth St-Aubyn, his wife Carolyn and Dr Trevor May - after which a little time was spent checking on the HMS Tetcott Oak (which continues to grow healthily).
Invited back to the wonderful 16th Century Tetcott Manor by Sir William, our guests had the opportunity to sit in the cool and relax and chat over a very welcome cup of tea - giving both Maria and Jane the opportunity to learn more about life aboard Tetcott.
The day was rounded off with a meal at the nearby Arscott Arms before we said our farewells once again - the end of a most memorable day....
Look out for photos of the day which will be uploaded soon!
28 June 2012 - A New Name Added to the Roll!
James 'Jim' Harold Burmby (1920-1993)
Petty Officer (Cook), HMS Tetcott
3 December 1941 - 2 September 1944
A brief mention in a contemporary newspaper article (The Essex Chronicle, 17 March 1944) has led to the 'discovery' of the family of another former HMS Tetcott crew member......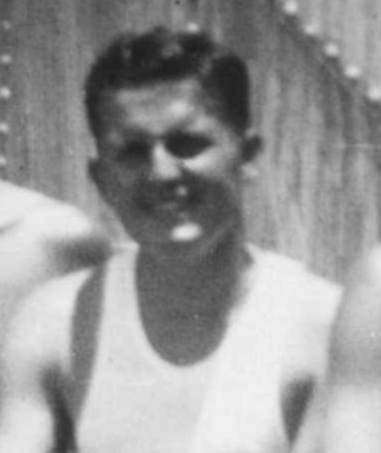 Harold 'Jim' James Burmby joined the Royal Navy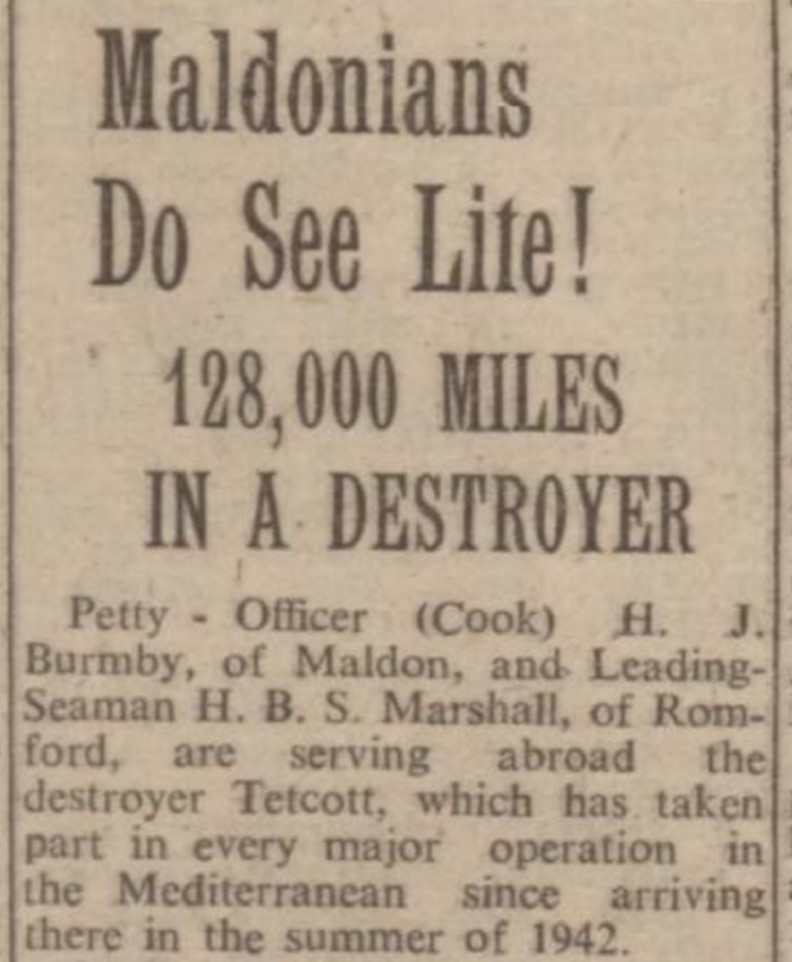 on 25 August 1938 and joined Tetcott on her commissioning at Cowes in December 1941. Harold - always known as Jim, remained with Tetcott for almost three years, finally leaving the ship towards the end of 1944.
Jim remained in the Royal Navy after the war, finally leaving the Service at the age of 47 on 25 August 1967 after 29 years continuous service.
Sincere thanks to Sonia, Harold's grand daughter for the initial contact and to Dave Burmby - Harold's son, for so kindly supplying us with Jim's service details - an honour to add his name to the Roll
12 June 2012 - A New Name Added to the Roll!
Ernest Wynne (1901-1970)
T/A Gunner (Gunnery Officer), HMS Tetcott
1 September 1941 - December 1941
The very first officer appointed to HMS Tetcott and without doubt the oldest and most experienced member of her crew on her commissioning in December 1941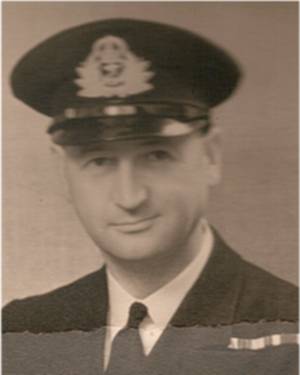 Ernest joined the Royal Navy in 1916 as a Boy Sailor, and, by 1917 was in HMS Collingwood where he remained until the beginning of 1919 and was amongst the very first men appointed to HMS Tetcott in September 1941. He suffered a serious accident prior to the ship sailing, crushing his skull, which was to bring about the end of a naval career spanning some 24 years…
Sincere thanks to Ernest's daughter Philippa (who herself served for eight years in the WRNS from 1954) for contacting the Archive and kindly supplying his photograph and details - an honour to add his name to the Roll
11 June 2012 - A New Name Added to the Roll!
John Whitcombe (1923-1998)
Able Seaman, HMS Tetcott, 13 Aug 1944 - 30 Jun 1945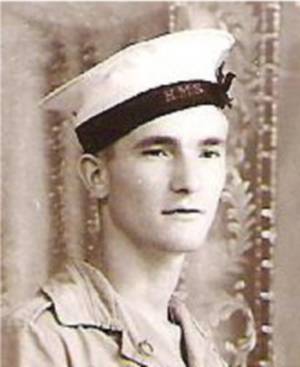 The Archive has been contacted by 13-year-old Conor, the Great Grandson of John Whitcombe who tells us that he knows that John served as a RADAR operator in Tetcott at some point during the war.
"although I don't know the exact dates I thought this could be added to the 'Ship's Company' of the website. Being only 13, I did not know him, but I am very interested in his life. I have searched the family house for things connecting to his time in the Navy and found letters and pictures but unfortunately, I did not find any records with names of ships and dates"
If anyone remembers John please contact the Archive and we will forward all emails.
11 June 2012 - A New Name Added to the Roll!
Joseph Peter Rochford (1915-1982)
Surgeon Lieutenant HMS Tetcott, March 1944 - June 1944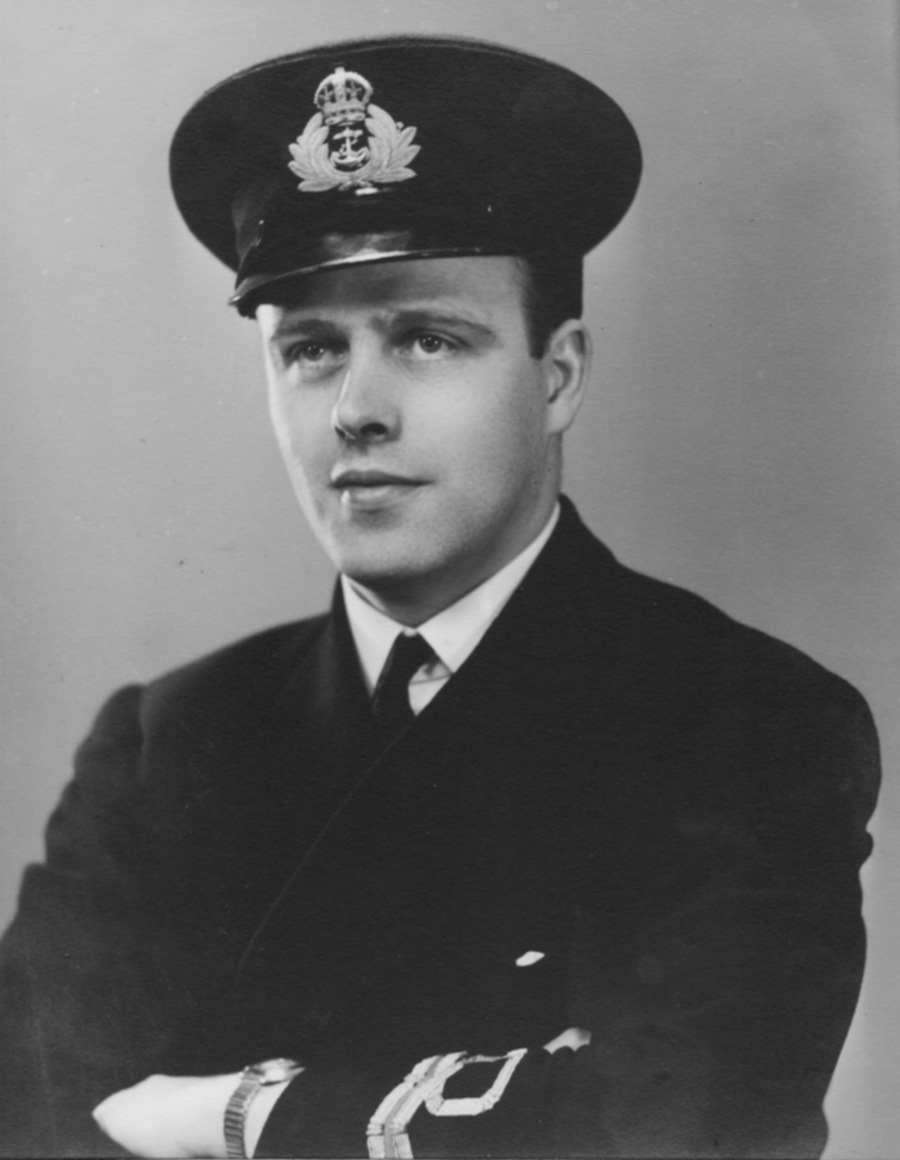 Thank you to Joseph's wife Celia for contacting the Archive (through her daughter Julia) and for kindly providing the photograph of her late husband for us to include in the HMS Tetcott Archive
We are pleased to be able to add Joseph's name to the HMS Tetcott Roll
9 June 2012 - A New Name Added to the Roll!
Oliver Stirling-Lee (1920-2004)
Lieutenant HMS Tetcott, March 1945 - 1 March 1946
Lt Oliver Stirling-Lee holds the distinction of being the last Officer to serve in HMS Tetcott, taking her on her last voyage from Portsmouth to Porchester Creek in November 1945 and, from December 1945 was in sole command, being amongst the last to leave her on 1 March 1946.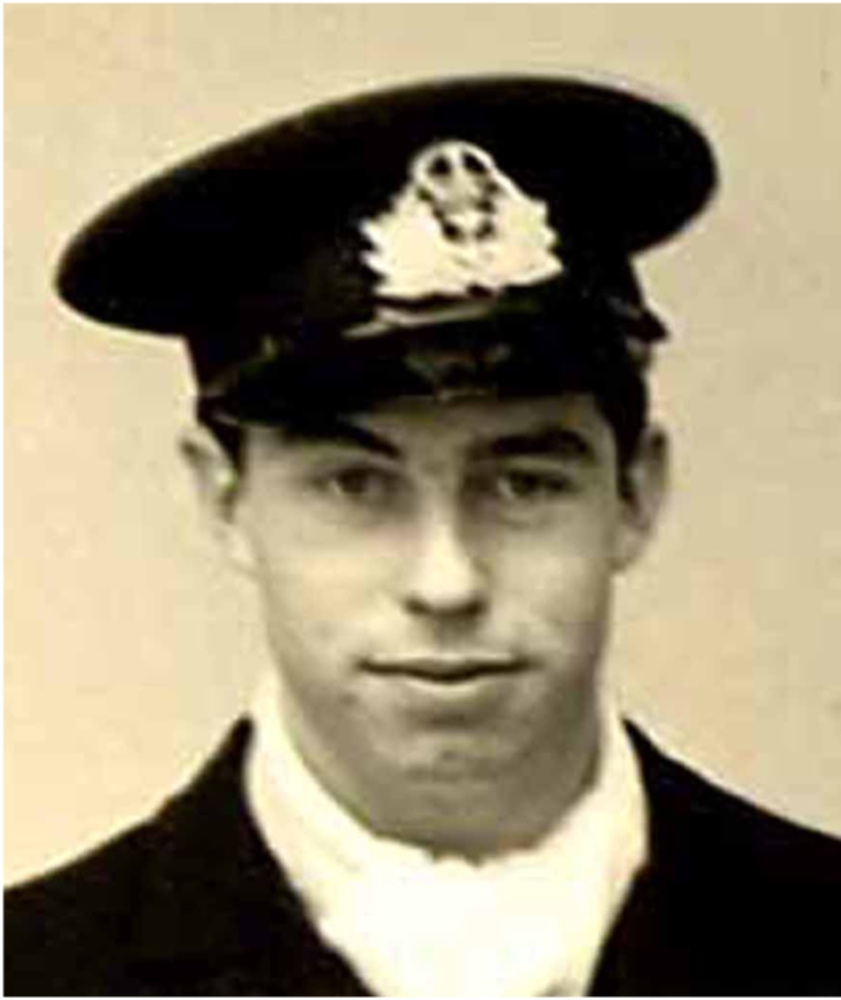 Volunteering for the RNVR in 1940, Oliver joined HMS Abdiel in March 1941 as a Naval Rating. Later moving to HMS Formidable (July 1941) taking her for refit to Norfolk, Virginia, and returning to the UK in HMS Resolution. After time spent at HMS King Alfred for Officer Training, Oliver was appointed to HMS Meteor before joining Tetcott in March 1945.
Thank you so much to Oliver's son Gilbert for contacting the Archive and a very special thank you to Mrs Elizabeth Stirling-Lee for very kindly giving the Archive a copy of her late husband's memoirs, numerous photographs and documents - the HMS Tetcott Archive is honoured to add Oliver's name to the Roll
1 June 2012 - A New Name Added to the Roll!
Robert Griffiths Rees (1918-2009)
T/Surgeon Lieutenant HMS Tetcott, June 1945 - Late July 1945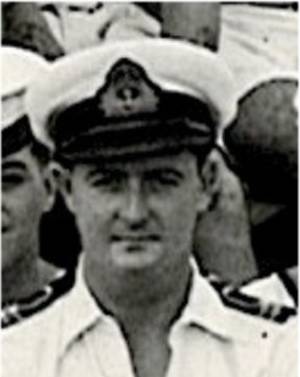 Previously in the 'B' Class destroyer HMS Bulldog, and was on board when she took the surrender of the Channel Islands on 9 May 1945. Robert sailed in Tetcott from the UK on 29 June 1945, bound for Gibraltar. His time in Tetcott was to be brief - a little over one month - before returning to the UK and then becoming Medical Officer of the Royal Marine Depot at Deal, Kent.
Grateful thanks to his son Nick for supplying his photograph and details - an honour to add Robert's name to the Roll
Added to 'Identified Officers & Ratings' Page (1 June 2012)
Did you, your father or grandfather served on HMS Tetcott?
Do you have any information you can add to the HMS Tetcott archive?
Or even if you just want to know more about the ship and her crew
We'd love to hear from you - click HERE to send us an email