From the very first days of organising and planning the 2006 Reunion thought was given on how to permanently mark the occasion. It soon became clear that the most appropriate memorial would be the dedication and planting of the quintessential English Oak tree.
Cladding the hulls of Nelson's ships, the native Oak is synonymous with the Royal Navy, its importance extolled in the traditional tune of the the Senior Service – 'Heart of oak are our ships, jolly tars are our men'.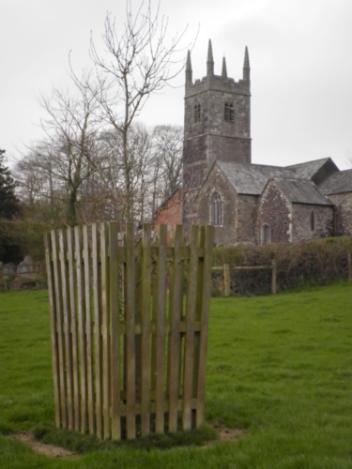 Through the generosity of Sir William Molesworth-St Aubyn, a site was chosen within the Manor grounds, just yards from the church and Manor house. Protected by a wooden tree guard, the site is marked with a plaque –
THIS OAK TREE WAS PLANTED BY VETERANS OF
HMS TETCOTT
ON THE OCCASION OF THEIR REUNION ON
7 OCTOBER 2006
---------------------------------
A LASTING MEMORIAL
TO THE ASSOCIATION
BETWEEN THE SHIP AND
THE VILLAGE OF TETCOTT
With an average life of 300 years the HMS Tetcott Oak will remain as a lasting reminder to the association between ship and village for generations to come.
Come, cheer up, my lads, 'tis to glory we steer,
To add something more to this wonderful year;
To honour we call you, as freemen not slaves,
For who are so free as the sons of the waves
Heart of oak are our ships, jolly tars are our men,
we always are ready; Steady, boys, steady!
We'll fight and we'll conquer again and again.