THE HMS TETCOTT PHOTO ALBUM (2)
Just a handful of the 300+ contemporary photographs held by the archive
Copies of all the photographs displayed within the album are available to purchase for a small fee (for private use only). All proceeds go directly to Holsworthy Museum Society (Reg Charity No.1055088) and the HMS Tetcott Archive - contact us HERE with your enquiries or requests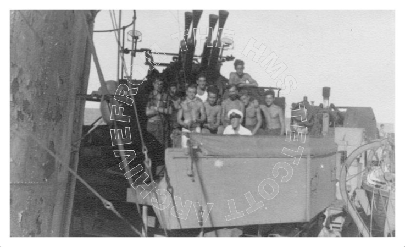 Photo FIVE
Taken on the outward journey to the Mediterranean, the photo shows eight ratings and a Petty Officer on Tetcott's Pom-Pom deck.
Unusually, Tetcott's Pom-Pom appears to have been fitted with additional armour to the rear (not fitted to other Hunts)
Photo SIX
Recieving mail from sister-ship HMS Beaufort (taken from a set of three photo's). Similar to Tetcott, like all Hunts, numerous 'modifications' and additions were made when neccessary, making almost every ship slighly different. Beaufort has an extra Carly Float on the After Deckhouse and, although unclear in the photo, she has a sleeved funnel extension.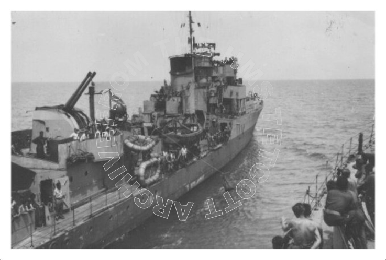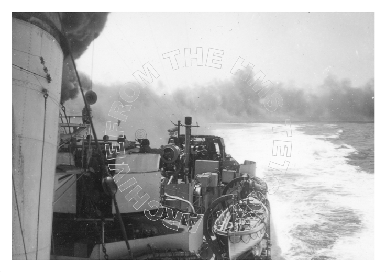 Photo SEVEN
Tetcott - 'Making Smoke'.
Careful examination of the photo would seem to indicate that the ship was at Action Station - the Pom-Pom is manned as is 'X' Gun.
The photo gives a good view of the Searchlight as well as the Whaler and, beyond, one of the Carley Floats.
Photo EIGHT
HMS Tetcott, oiling at sea, Mediterranean c. late 1943. The tanker is unidentified but her appearance (her arrangement, funnel, height and hull) would point to her being one of the 93 requisitioned from the British Tanker Company in 1939.
Note also the manned Oerlikons aboard the tanker whilst Tetcott's port Oerlikon in the bridge wing is unmanned and faces skyward...