South Wales Echo, Wednesday 11 November 2009
1939 Iron Cross given to Museum
Doctor's family make donation
An Iron Cross which fell into the possession of a South Wales war hero has been put on display at a musuem.
Tom Lewis, who was posted to naval ship HMS Tetcott as a doctor during World War II, came across the German military decoration while examining a dead enemy pilot in the early 1940s. The pilot, who had been found floating in the sea, was wearing the Iron Cross which had been presented to him by Hitler in 1939 after the Polish campaign. The then commander of HMS Tetcott, Henry Richard Rycroft, offered Dr Lewis the cross as a souvenir.
And now, 10 years after Dr Lewis' death, the cross has been presented to Holsworthy Museum in Devon by his widow Peggy. The museum has published a book about the hunt class destroyer and also has a display section celebrating the ship. And one of Dr Lewis' three sons, Tony, believes that is the perfect resting place for the cross.
He said: "Dad always said the Iron Cross belonged to the ship rather than to him, so my mother was delighted to be able to give it to the museum. When we found out they had a whole section dedicated to the ship we thought that would be the ideal place for it.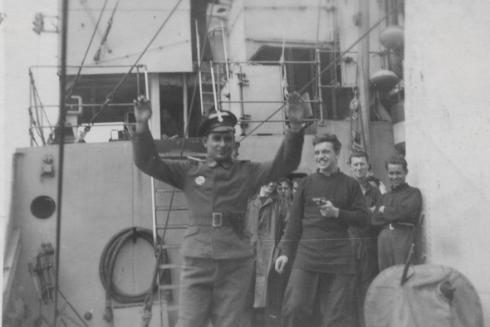 ABOVE: SBA Robert Smith wearing the uniform of the downed pilot
"When we were boys in the 1950s dad took us to Penarth docks to see HMS Tetcott in mothballs. We weren't allowed on board, but it was an emotional experience. I think Dad would've been delighted for the museum to have the cross."
Dr Lewis was born in November 1914 and grew up in Pentyrch, where his father was a vicar. He qualified as a doctor at Cardiff University Medical School in 1940 before serving in the war. He began his medical career as a hospital houseman during the Blitz before joining the Navy.
While aboard HMS Tetcott he dealt with all medical matters, and also acted as the ship's censor and dentist. He was also employed decoding ciphers. In March 1943 he was transferred to a military hospital in Alexandria, Egypt, as one of the doctors dealing with casualties from the desert war. He remained at Suez until January 1945 when he flew home to join a shore base at Warrington.
After the war Dr Lewis worked as a GP in Portmanmoor Road, Splott, and remained a keen follower of Cardiff Rugby Club and Glamorgan cricket. He retired in 1975 and moved to Llangathen, Carmarthenshire, before finally settling in Aberthin, near Cowbridge. He died in December 1999 aged 85.
Jonathan Evans